Julian's Housing Trend:
Owner Occupied VS Short Term Rental
Do you know your neighbors? There is a good chance you don't know as many as you once may have. According to San Diego County tax records, most homes sold during 2017 in the 92036 and 92070 areas are NOT owner occupied. Between January 1 and December 31, out of 102 recorded transactions, only 12 were designated as "owner occupied." The rest consist of 62 non-owner occupied and 28 have no available data. Five of the non-owner occupied had had purchased multiple homes in Julian or Santa Ysabel. Julian has long been known as an area of second homes, but it is shifting to an area of short term and vacation rentals. For the year of 2016 there were 38 transactions showing as "owner occupied," and 43 "non-owner occupied" and three with no available information. In 2013 of 80 transactions 40 were "owner occupied" while 35 were recorded as "non-owner occupied."
There are approximately 200 short term rentals, including those listed on Airbnb and VRBO, indicating that in Julian the trend in housing is turning from residential and second homes to vacation and short-term rentals. While such a trend brings more people to the Julian area, it can also have adverse effects.
Several business owners have brought up the issue that the vacation housing takes away from the more affordable housing that their employees would normally rent. Having fewer long term rental units available results in higher monthly rents. One shop owner recently had to move to another area because the rent went up such a significant amount. Employees have had to find housing further from work. The restaurant industry seems to feel the brunt of the housing market shift the most.  One local summed up the issue that many have expressed, "It affects all of us. Most short-term rentals in Julian are owned by non-locals, so the additional income goes out of town. It reduces the amount of housing available to locals which makes it so the rental cost increases, this in turn makes most housing in Julian not affordable to the average income people who are still being paid minimum wage. This in turn means people need to look outside of Julian for housing, and because of the cost of gas most will find work in other areas where they live."
With upwards of 200 Julian area homes being part of the short-term rental inventory neighborhoods are feeling a difference in character. Several people have expressed a lack of community as the major disadvantage of the trend. Some long-time residents have left the Julian area after years of living here because of the shift from the community feel to tourism. One who recently moved stated "I have to say that I moved and left my business because the lack of concern for a lasting community is a big problem for me."
"We are slowly replacing neighbors with a constant stream of strangers who aren't invested in seeing our little neighborhood thrive." Strangers in the neighborhoods is a concern for many. Complaints of parties, rudeness and noise have been brought up by some residents. Many owners have little to no contact with the neighbors and have a vacation management company handling the rental, making it almost impossible for communication. Local vacation management companies try to keep tabs on unruly situations and rectify issues. One resident stated, "In summary, the character of our neighborhood is slowly changing from one that feels like a close-knit neighborhood to one that feels more like a cheap resort. We maintain an open constant dialogue with the owners and that helps keep down the problems."
An additional aspect of the short-term rental situation is the collection of the Transient Occupancy Tax (TOT). This tax is charged to travelers when they rent any accommodation for a stay of less than 30 days. TOT revenues fund a Community Enhancement Program, which goes back into the community to help encourage tourism, stimulate the economy and generate jobs and better quality of life.  TOT funds collected in fiscal year 2016-17 were 272,533.43, while funds collected ten years ago in fiscal year 2006-2007 were $290,767.65, a drop of $18,234.22. While there are more short-term rentals in the Julian area, there is less TOT revenue. This may indicate that most of the short-term rentals are not paying their taxes or they not being used. Either scenario can work against the Julian economy.
The short-term rental trend is hitting Julian, San Diego County and throughout California. It will remain a concern for many. We at Sage feel that San Diego County should create zoning to prohibit or at least limit the number of short term rentals in residential neighborhoods.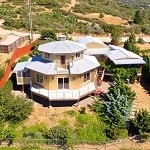 For more about the Housing Trend in San Diego County, visit the following links: